Join us for a new session of Parent-Child Mother Goose® at Capilano Library.  
Parent-Child Mother Goose® is a fun group experience that introduces babies aged 0-12 months and their caregivers to the pleasure and power of using rhymes, songs and stories together. Parents and caregivers gain skills and confidence that enable them to create positive family patterns during their children's crucial early years. Infants benefit from enjoyable, healthy early experiences with language and communication.
Brought to you by the NVDPL and North Shore Community Resources.
Register online or call 604-987-4471 ext. 8172.
Parent-Child Mother Goose | North Vancouver District Public Library (nvdpl.ca)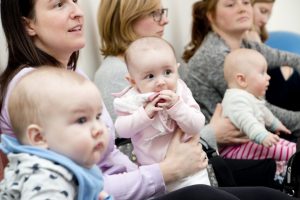 When
Thursdays from 2-2:45 october 7- december 7, 2021
Who
parents and caregivers with infants 0-12 months
---
3045 Highland Boulevard,
North Vancouver, British Columbia,
V7R 2T9, Canada
3045 Highland Boulevard,
North Vancouver, British Columbia,
V7R 2T9, Canada
Ages: Infants,
Programs: NSCR,
Regions: Delbrook / Upper Lonsdale, District of North Vancouver, Upper Capilano, West Vancouver,
Drop-in Program Types: Child Care Information, Child Development Support Services, Family Drop-Ins,